Police have arrested two suspects in connection with the alleged trafficking of 17 kids in Wakiso district.
"On the 15th of April 2023, a reliable source reported to the police that a lady with 17 young children was sighted at the Nkoowe-Mende boda boda stage in Nkoowe village, Kaliti parish, Wakiso district, at around 5 a.m.," said Kampala Metropolitan Police deputy spokesperson, ASP Luke Owoyesigyire.
Story by Chimpreports.
Owoyesigyire said officers from Wakiso police responded immediately and recovered all the children and their luggage.
"Two suspects, Caroline Niyebare and Dina Ashaba, were arrested and are currently detained at Wakiso police station," he said, adding, "A case of child trafficking has been registered at Wakiso."
During the investigation, it was established that the children were aged between 1 and 6 years and did not know any language apart from English.
"They also did not know where they came from," said Owoyesigyire.
Cases of child trafficking in Uganda have increased in recent years.
Police recorded 532 cases of child trafficking in 2022, up from 317 cases in 2021.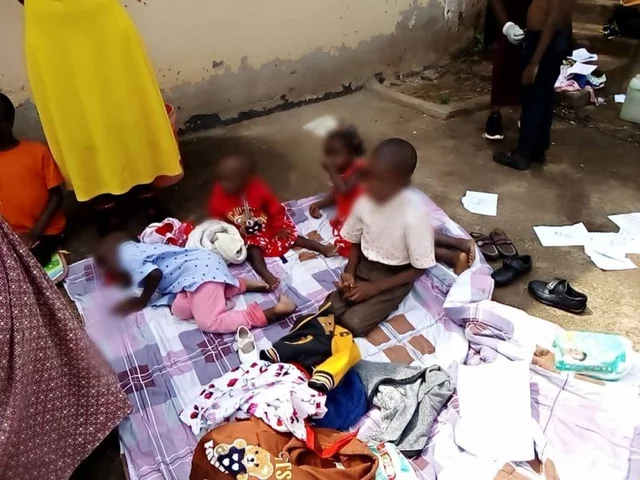 Police said the children were found to be in bad condition with bruises and wounds all over the body, especially on the buttocks, arousing suspicions of child torture.
During the interrogation of the suspects, Niyebare reported that the children were being taken to Mbarara district.
However, she failed to provide any more useful information, feigning ignorance of the English language.
The police said the privacy and safety of the children were being protected, and their rights to protection and care were being upheld.
"The police urge anyone with information related to this case to come forward and assist in the investigation," said Owoyesigyire.